If I told you it was free, would you want to learn to hack? I'm interested in offering a free course on how to hack to those who sign up over the next week. There are two requirements, one is that you commit 2-5 hours a week, and the other is that you document the process in a wiki (an easy to edit website, I'll explain when you sign up). In exchange, I will show you how to hack. I will answer your questions openly and honestly, and you can go as fast as you'd like. This is intended for those with little to no knowledge of computers, operating systems, and networking, as my hope in offering this is that you'll be aware of the tools that malicious people may use against your computer and electronic devices. Once you're aware of the tools and how to use them, you immediately become aware of the risks, and then we go into the steps you can take to protect yourself.
I've taught introductory sessions on how to hack in Asia, South America, and across North America. Most people taking the class are pleased with my open approach, as I believe it is similar to teaching lock picking. Some don't think such things should be taught, but I believe that once you realize which locks are easy to pick and which are difficult, you can start to make informed decisions about which lock to choose. As you progress with the sessions, the more details you will be aware of on how to protect yourself from various adversaries, and eventually how to conduct a threat & risk assessment (TRA) as well as vulnerability assessment. If you were to commit at least 10 hours a week for a year, you could likely get an entry level information security job, which typically pays over $50,000 in my region. So, not bad for free!
What will I offer exactly? I'd start with a Skype interview, just to see where your knowledge level is now. For example, do you know what an IP address is? Do you know what happens in the background when your visit a website in your browser? After that, our communication will be over email, where I'll provide you weekly assignments. I will also offer unlimited Q&A over email, so you can ask as many questions as you'd like. You can move at your own pace. Throughout the program, I will prioritize on free, open source software solutions. On the defensive side, I will focus on how to protect your privacy online.
The final thing I would like from you is feedback, the idea of doing this is to see where this can go. It might turn out it was a fun experiment, or it could turn into an official program, so your constructive feedback is appreciated!
If you're interested, please email kris at privasectech.com by Dec 31, 2014 and let's setup a Skype chat!
[caption id="attachment_529" align="aligncenter" width="300"]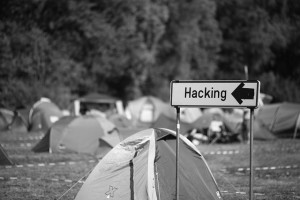 Show me the way of hacking - Image by Alexandre Dulaunoy[/caption]