My first entry for #fivetenfriday was experimenting with the GIMP. I don't normally edit my photographs except for cropping. It was a lot of fun testing the filters out, I will experiment more with this.
In this image I applied a canvas filter to a magnolia tree imagine I just took here in Vancouver, B.C.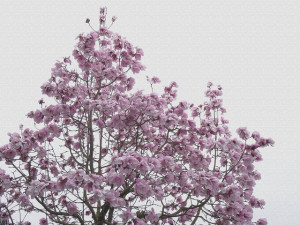 In the process I also learned that my hosting provider doesn't like large files, so I activated a 5 year old Flickr account. If you click on the link you can see the fill size image, as well you can also see in the EXIF data showing I took the photo on manual mode, which is something I've been forcing myself to use since I got this new camera, which has been a great learning experience. You have to zoom in on the full screen flickr image to see the texture. Thanks for checking it out!